TaZman – Education Manager
For more information please visit www.tazman.co.il

TaZman is an online management system, dedicated to serve teachers, studios and everyone involved in providing services in known timetable. The core of the system is an easy-to-use dynamic online timetable, automatically generated by the system.The system creates simple and features-reach workspace for a studio, to effectively communicate with students and use the existing clients base as a force for the business growth.
Using the intuitively web-based interface, teacher is available to
manage the courses he / the school / the studio is running,
manage all student's information
unite students around courses,
easily communicate students using SMS, emails and Facebook posts
follow-up students' payments
stay tuned about the existing studio balance
set reminders for the next communication with student / client
perform many other administrative,social and  marketing tasks.
The timetable management system integrates into a teacher's website or Facebook page to allow easy communication with students and better integration with the existing teacher's eco-system.
TaZman is a SaaS (Software-as-a-Service) solution, meaning it is offered on subscription base, and provides management abilities, most adjusted to teachers' needs. TaZman offers fully operating free package which allows teachers at start point concentrate on the teaching and releases the pressure of administrative load.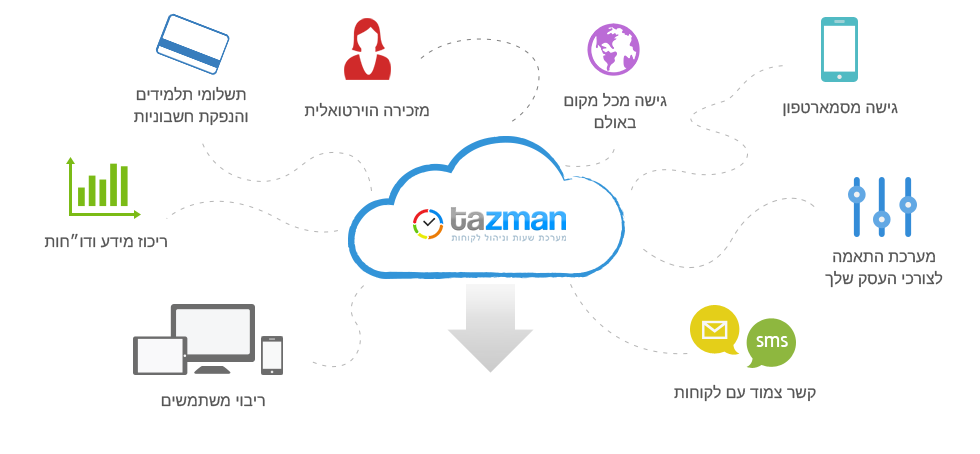 Please visit www.tazman.co.il